Notre Dame Health Care
Healthcare, Non-Profit
Project Objective
To increase new patient acquisition and retention, donations, student enrollment, job inquiries, volunteering, event attendance, newsletter subscriptions, and follows on social through a full website redesign that emphasized Notre Dame Health Care's unique dedication to holistic care, advocacy for the vulnerable, life education services, and community leadership. NDHC also sought 3Lane's assistance in developing a comprehensive Brand Book to accompany NDHC's existing brand standards.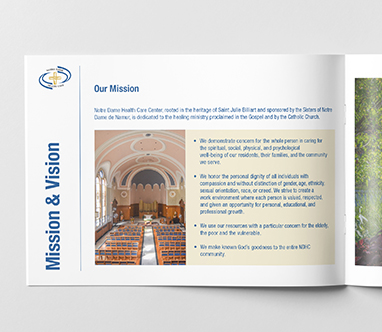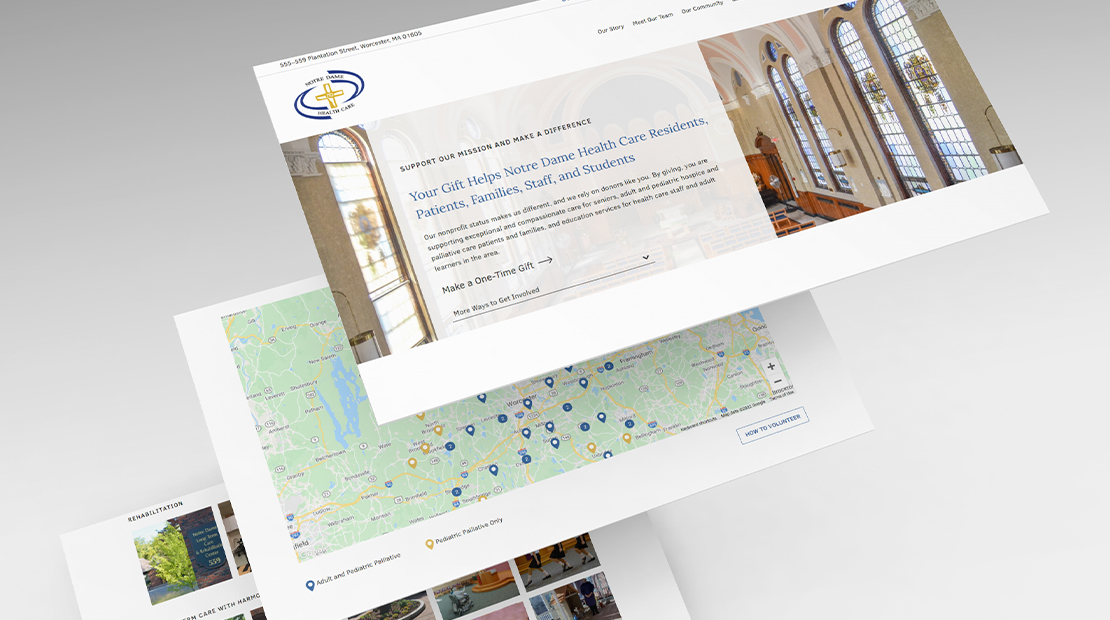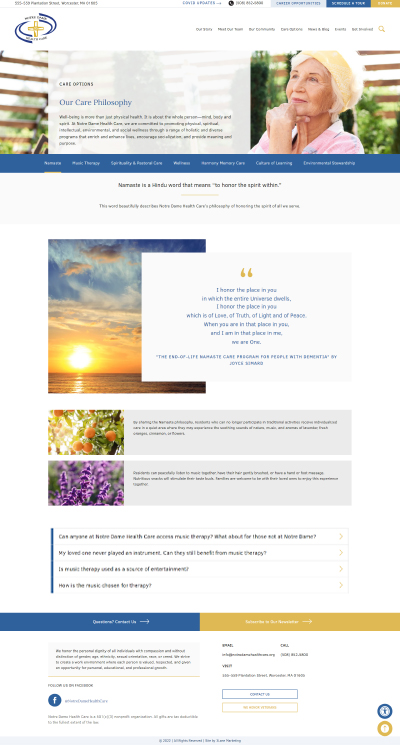 3Lane Approach
3Lane developed a unique partnership with the warm and passionate staff of Notre Dame Health Care. Throughout the project, 3Lane worked closely with key stakeholders to understand NDHC's unique history, facility, and the diverse community that the website would be serving. Using beautiful design, carefully selected imagery, and freshly written messaging, 3Lane was able to deliver to NDHC a website that truly conveyed their character and the wide variety of services they provide, using interactive maps, video and photo galleries, modern UI/UX solutions, succinct and action-oriented messaging, and sections thoughtfully geared towards the needs and interests of specific audience types to successfully increase engagement and position NDHC for a successful next chapter.
Our experience with the team at 3Lane Marketing was truly amazing. We were in great need of a fresh, new website that helped us tell our story in a way that is "us" and conveyed warmth, compassion and a feeling of "home" to those we currently serve as well as those we hope to welcome to the "Notre Dame Health Care Family" some day. Our own team is pretty large and it was important that everyone have a stake in the process. The 3Lane team was terrific, guiding us every step of the way. They listened and captured both our "organizational voice" and the unique "voices" of our individual service lines. Their design and development teams are creative and talented problem solvers who demonstrated passion for their work at every turn. It honestly felt like a miracle when they began to unveil the designs and we could see how well they managed the flow of so much information for differing audiences. Our new website is beautiful. I would highly recommend 3Lane Marketing to any organization looking to re-imagine their website.
Our Services
Brand Strategy & Design
Print Design
Research Analytics & Insights
SEO & Digital Advertising
Concept Development
Event & Trade Promotion
Web Design & Mobile Apps
Native, Influencer & Social Strategy
Testimonials
Let's Get Started
Thank You
We will be in touch soon!