NC Child Care Resource & Referral Council
Non-Profit, Service
Project Objective
To completely reimagine the North Carolina Child Care Resource & Referral Council (NC CCR&R) website through a fresh, modern redesign with an easy-to-maintain CMS that builds brand identity, awareness and interest in local and statewide CCR&R services, provides news and resources to families, child care providers and businesses, and serves as a platform for CCR&R staff from across the state to access and share internal information through a secure Member portal.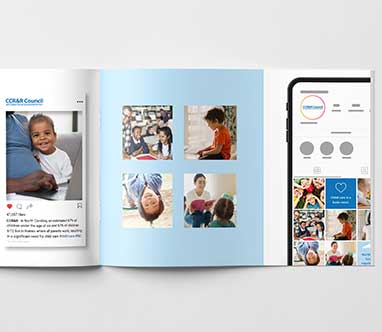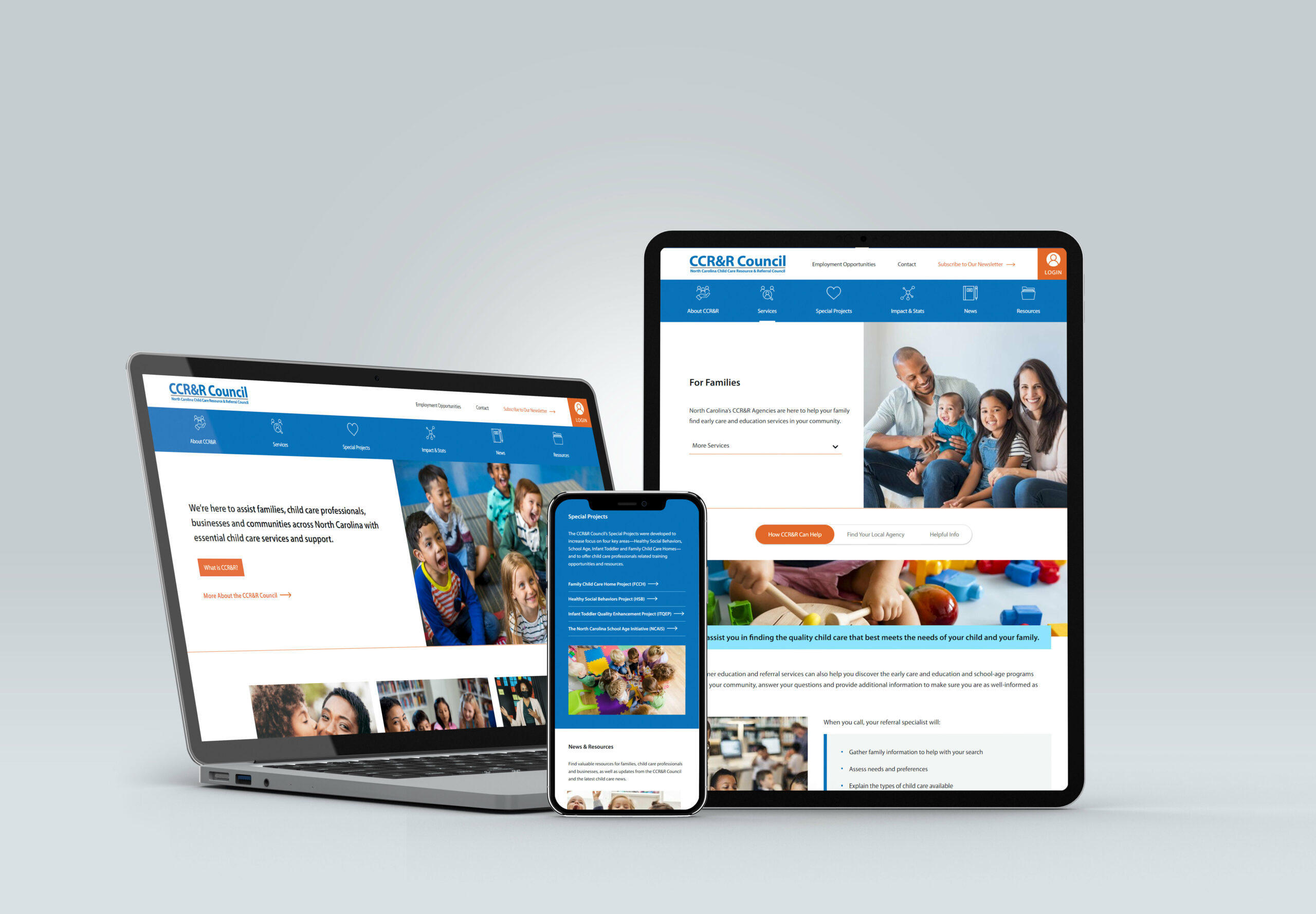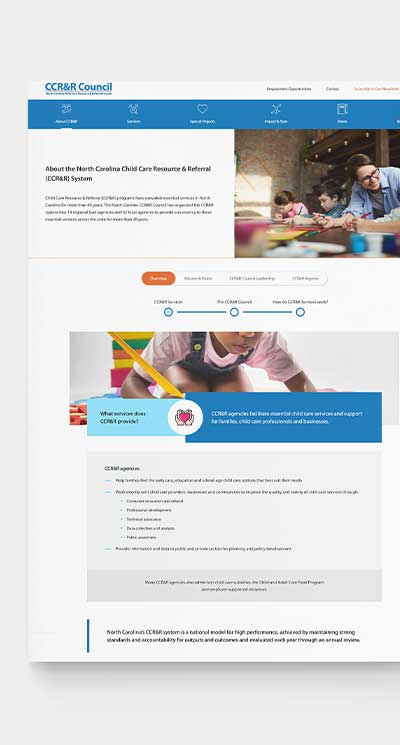 3Lane Approach
Due to the complex nature of the sitewide CCR&R organization in North Carolina, the Discovery process included extensive internal audits, along with multiple meetings with various internal stakeholder groups, external user surveys and one-on-one interviews to gain a complete of understanding of the needs of CCR&R's user groups, goals, and needs, and to reinvigorate their online brand voice. 3Lane started from the ground up to completely reorganize and rework existing content, write new content, develop intuitive user journeys, and highlight essential information through intelligent on-brand design and an entirely new site architecture. Custom tagging systems, map-based search and filter features, global image sourcing and production, original infographics, and an advanced and high-performing technology stack (Next.js, WPGraphQL, Apollo Client, TailwindCSS, SCSS/CSS Module, and Typesense) were implemented. A new member portal was built to accommodate multiple levels of Membership access and features, including resources and events. Through the new website, 3Lane was able to help the NC CCR&R Council transform their online presence into a welcoming, helpful and truly valuable destination for families, child care providers, businesses and staff across the state.
We thoroughly enjoyed working with 3Lane Marketing to build our NC CCR&R Council website. They gave it a whole new look, and we are so pleased with the result. It's so easy to use and update! They took the time to understand a pretty complex system and the end result is bright, user-friendly, easy to understand and easy to navigate. We recommend 3Lane Marketing without hesitation.
Our Services
Brand Strategy & Design
Print Design
Research Analytics & Insights
SEO & Digital Advertising
Concept Development
Event & Trade Promotion
Web Design & Mobile Apps
Native, Influencer & Social Strategy
Testimonials
Let's Get Started
Thank You
We will be in touch soon!